Every geek has something like this, a travel kit for when you get asked by people "oh you know about computers can you email this photo from the top of a Spanish mountain?"
It's nice to be able to say "yes I can"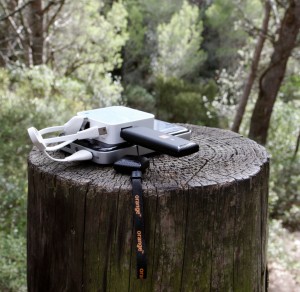 My basic travel kit consists of
Mobile phone charging battery (has 2x USB ports, 1 is a 2A port)
TP-Link WR703N running OpenWRT with 64MB RAM / 16GB Flash Mod from slboat (£25 delivered from China)
USB serial port that provides power and a serial console for the WR703R
USB 3G stick, unlocked has a PAYG 3 SIM in for UK usage
Short Micro USB cable for other gadgets and the wife's phone and to charge the battery from a standard USB port
Apple Lightning cable for my gadgets, why can't you use a standard Apple?
Short ethernet cable
Bootable 32GB memstick, gives me a few standard Linux options for fixing computers as well as a set of portable apps.
The WR703N is setup to run as an AP and access the internet via 3G dial up. Because it's got a serial port on it I can tinker to solve lots of different problems without needing network access.
The OpenWRT install on the WR703N also dials into my OpenVPN hosted on this server. It means I can browse as if I am in the UK from anywhere in the world, It's amazing how much better hotel wifi is when you can tunnel out of it and run a proper DNS server and web proxy.
The battery will run the AP for 4 days, drops to 2 days with the 3G dongle plugged in and working and gives portable data without having to pay a kidney a megabyte to the mobile carriers. The battery gives a couple of iPhone 5S / Nexus 5 charges and about a 2/3 charge on my iPad mini retina.